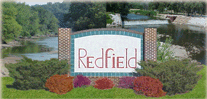 The Redfield American Legion has resumed its weekly Saturday morning breakfasts, with changes in place to help stem the spread of COVID-19.
The breakfasts are now only offered to-go in order to maintain social distancing and have a smaller volunteer staff run the breakfast. The menu is the same, though due to the increased costs of groceries and the added expense of to-go containers they will be charging $8. They are also selling 16 ounce to-go coffee and 12 ounce to-go milk or orange juice for an additional $1. Disposable silverware with salt, pepper, sugar, and creamer are available by request.
They are serving from 6-9 a.m. and you can either call ahead to 515-833-0007 to place an order or place an order at the walk up window to the left of the Legion main entrance. The Legion also advises there are benches and picnic tables at the City Park and at the Depot by the Raccoon River Valley Trail for those biking or traveling through. The Legion is glad to resume these meals to fundraise for the community, and hope this is a successful alternative until the regular process can resume.