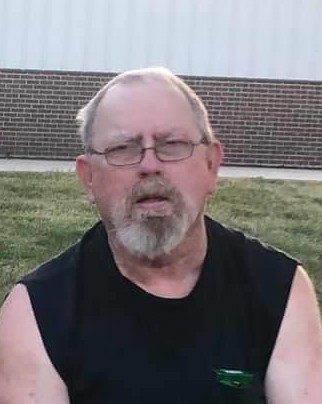 David Leon Anderson, age 67, of Jefferson passed away on Friday, July 24, 2020 at Iowa Methodist Medical Center in Des Moines surrounded by his family.
A private family funeral service will be held on July 29, 2020 at the First United Methodist Church in Scranton with Rev. Joyce Webb officiating.
Following the private funeral service, a public graveside service will be held at 11:00 A.M. on Wednesday, July 29, 2020 at the Scranton Township Cemetery.  Casket bearers will be Steve Anderson, Stacey Anderson, Camden Anderson, Marcus Smoot, Chris Anderson, and Dana Gibson.  Honorary casket bearers will be Aayden Anderson, Ava Anderson, Arya Anderson, Stella Anderson, Grady Anderson, Olivia Smoot, Madeline Smoot, and Eloise Smoot.  Those in attendance at the graveside service are asked to abide by social distancing guidelines and wear a mask.
Funeral arrangements are under the direction of the Dahn and Woodhouse Funeral Home in Scranton and online condolences may be left for the family at www.dahnandwoodhouse.com
Those who wish may send memorials to:  The family of David Anderson c/o Dahn and Woodhouse Funeral Home, 906 Grant St., Scranton, Iowa  51462.
David was born on March 19, 1953 in Jefferson, IA, and was the son of Russell Ray and Pauletta Jane (Brandenberg) Anderson.  He grew up in Scranton where he graduated high school 1971.  Following high school he worked at the Greene County Medical Center in the maintenance department.  He was married to Linda Battles on October 6, 1973.  To this union three children were born: Stacey, Steve, and Laura.  The family made their home in Jefferson and Dave began working for Chicago Rivet in 1975.  The couple divorced in 1985 and Dave was later remarried to June Rose (Orfield) Lundberg on April 14, 1989 in Jefferson.  Dave enjoyed fishing, mowing his lawn, riding his bike, playing pool, and all things to do with cars: body work, painting, fixing, and attending races.  He dearly loved and cherished his family and every moment spent with them, especially his grandchildren.
Dave is survived by his wife June of Jefferson; son Stacey Anderson (Meghan) of Yucaipa, CA; son Steve Anderson (Jane) of Adel; daughter Laura Smoot (Marcus) of DeWitt, MI; June's son Randy Lundberg of Jefferson; nine grandchildren: Camden, Olivia, Madeline, Eloise, Aayden, Stella, Ava, Grady, and Arya; two sisters: Sandy Gibson (Stan) of Scranton, Deb Mohr (Mark) of Scranton; a brother Robin Anderson (Deb) of Breda, IA; and many other extended family members and good friends.
Dave was preceded in death by his parents Russ and Pauletta Anderson; his brother Rick Anderson; and two nephews Dan Gibson and Donny