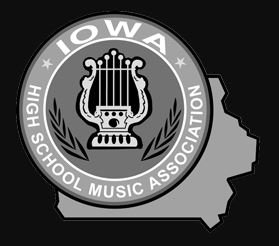 Ahead of the upcoming school year, the Iowa High School Music Association has released its initial guidelines and recommendations in accordance with COVID-19.
IHSMA Executive Director Alan Greiner says they have partnered with several other state high school music organizations to conduct a national study of aerosol disbursements as it relates to playing musical instruments. He notes the six-month study is in its fourth week and he describes the preliminary results so far.
"It seems like that the vibration of the vocal cords, the buzzing of the lips, the vibration of the reed are breaking up larger droplets into small aerosol and creating large aerosol disbursements."
Greiner points out what the study suggests is that these large disbursements can be mitigated by wearing a mask, both the student and the instrument.
"So for the first time ever you're going to see – for our bands – you're going to see masking that happens over the bell of the instrument. Well if we follow those procedures, we've found that we can get the aerosol disbursements down to a level that's narrowly the same as what that person would emit if they were just existing in that room."
Greiner says some of their recommendations include students in band, choir, or orchestra always wearing a face mask, along with social distancing of at least six feet apart, and limiting rehearsal time to 30 minutes in an indoor location. He adds that the IHSMA will release more guidance as the aerosol study develops.  Click the link below to see the full suggestion list.
IHSMA-Return-to-Learn-Guidance_BandChorusOrchestra_final