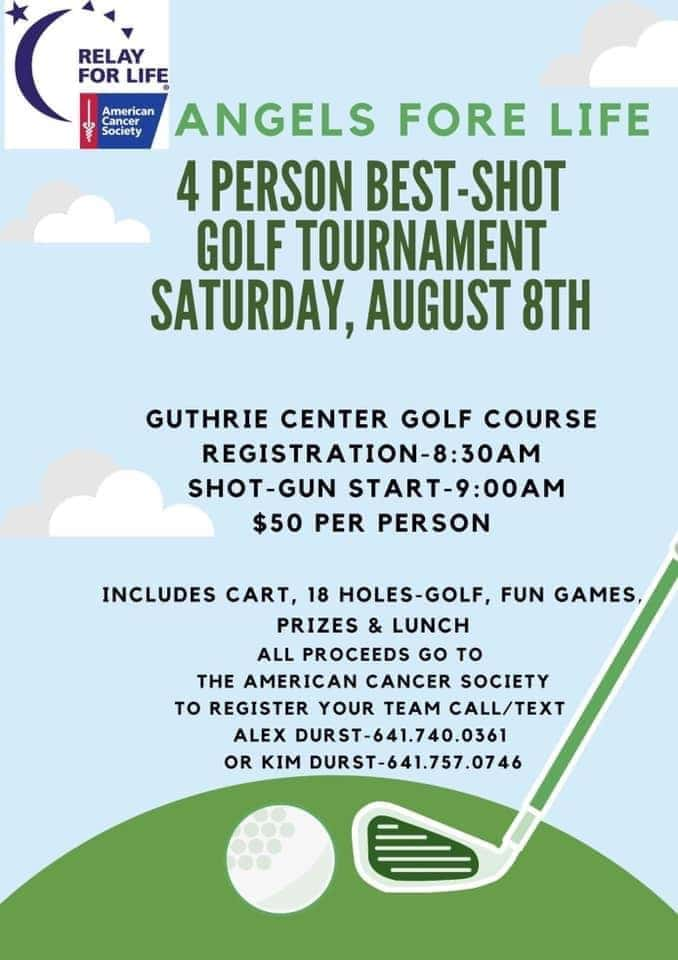 Though COVID-19 forced the postponement of Guthrie County Relay for Life's annual event last spring, fundraising for the American Cancer Society doesn't quit with an event happening next weekend.
The Angels Fore Life team is hosting their annual four-person best shot golf tournament Saturday, August 8th at the Guthrie Center Golf Course. Registration begins at 8:30 a.m. with a shotgun start at 9 a.m. Team member Kim Durst says those without a team are welcome to attend as they typically join individuals together, and registration is $50 per person including a cart, 18 holes of golf, fun games, prizes and lunch. Durst explains why it's important now more than ever to fundraise for Relay for Life, "Fundraising is down obviously with the COVID and everything that's happening right now in our world and the one thing is cancer hasn't stopped and neither can we. And that's what we continue to say because our cancer patients are being affected just like so many and so every penny counts and we appreciate any donations and we can't thank everyone enough that continues to support us in our fight."
Durst says face masks are encouraged for the event, and participants are advised to share golf carts only with those living in the same household. Hand sanitizer will also be provided. Information on how to register is included in this story at raccoonvalleyradio.com.