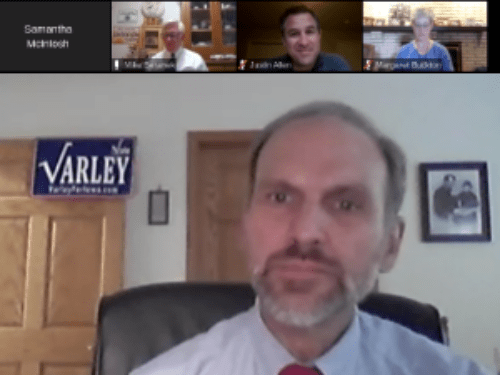 State Senate District 10 Democratic candidate Warren Varley held a virtual discussion about current issues being faced in public education with a panel of Iowa stakeholders Thursday night.
During the free public event held through Zoom, Varley asked questions of Margaret Buckton, lobbyist for Rural School Advocates and Urban Education Network of Iowa; Justin Allen, Johnston School Board president and Assistant Polk County Attorney; Mike Beranek, elementary teacher and Iowa State Education Association president, and Susan Olesen of Iowa School Finance Information Services. The guest speakers discussed the state's guidance for schools' return-to-learn plans this fall, substitute teacher and other labor shortages, social justice and diversity, public school funding, and collective bargaining laws which saw a large overhaul from the Republican-led legislature in 2017.
Though Varley gave most of the meeting's platform to his guests, he gave these closing remarks, "I think education is so important, it's the foundation of our democracy, the source of our economic prosperity, and our responsibility to our children to give them the best start in life possible and in doing so we make an investment in our future that will reward us all. We have an obligation to do what we can to protect the health and lives of all of our children."
Varley will be holding another listening post event focusing next time on healthcare at 7 p.m. August 20th. He is running against Republican incumbent Jake Chapman of Adel in the November general election.