Greene County Relay for Life held a scaled down version of its main event Friday night, due to COVID-19 concerns.
The event started with a drive-thru meal in the parking lot of the Greene County Community Center in Jefferson. Attendees stayed in their vehicles, while volunteers served a free-will donation meal of pork tenderloin sandwiches or burgers which was donated by Jefferson Hy-Vee. Later on that evening, luminarias were on display on the southwest corner of the community center in honor of loved ones who lost their battle with cancer.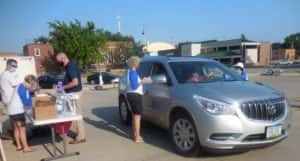 Event Leadership Team Chair Tori Riley says if you missed out on last night's opportunity to donate to cancer research, there's still time to do so.
"Our books don't close until mid-December. So anybody can keep donating to Relay for Life. People's Bank is our banker. You can take donations anytime to People's Bank, designate it for Relay for Life of Greene County, and it goes to the American Cancer Society."
Riley adds, there will also be an online auction, with bidding open from September 8th-11th. Items for the auction are still being accepted. To donate an item, contact Riley at 515-370-3087.