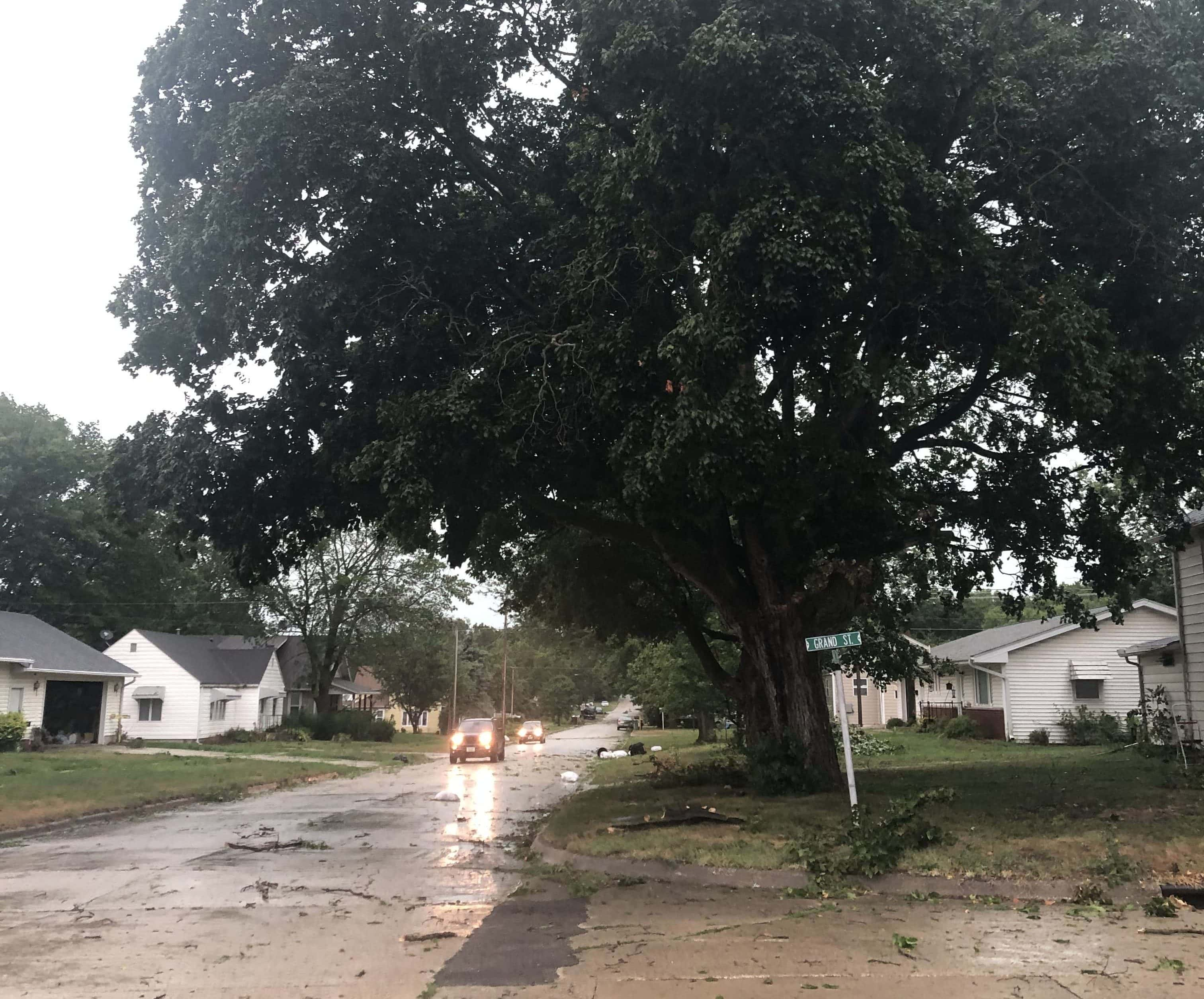 Downed tree branches, debris photographed in Guthrie Center Monday.
Downed power lines, tree limbs, and property damage were incurred by a line of severe thunderstorms that moved through the Raccoon Valley Radio-listening area Monday morning.
A Severe Thunderstorm Warning was issued at about 9:30 a.m. for Greene and Guthrie counties and was later issued for Dallas County by the National Weather Service with hazards of possible 70 mile per hour wind gusts and quarter sized hail. Winds of 65-70 miles per hour were reported to the National Weather Service by weather spotters throughout the three counties, as well as heavy rainfall and pea sized hail in Bagley at 10:21 a.m., trees down in Guthrie Center and tree limbs down in Dallas Center, Adel, and Perry. Guthrie County Dispatch also reported a tree down in the 400 block of North Division Street in Stuart, power lines down on 7th Street north of Main Street in Guthrie Center, and a house that caught fire due to a lightning strike in the 100 block of Southwest 4th Street in Panora. Guthrie Center city officials have also stated that their city crew will be working to get streets cleared and collect debris, and residents' patience is appreciated.
Greene County Emergency Management Coordinator Dennis Morlan confirms of upheaved trees and massive power outages across the county and he urges the public to stay off the streets. Jefferson City Hall currently is without power and phone lines are down. A power line was also downed on Adams Street from Highway 4 to Hy-Vee, and motorists should anticipate possible road closures as crews clear damage. Jefferson City Administrator Mike Palmer says residents can take trees and branches to the yard waste site or leave them curbside for city crews to pick up. Residents can also contact law enforcement about major property damage incurred.
The severe thunderstorm warning for Greene and Guthrie counties was allowed to expire at 11 a.m., and at 11:15 a.m. for eastern Dallas County. Five members of the Raccoon Valley Radio Severe Weather Action Team provided live coverage of the storm as it moved through the listening area.