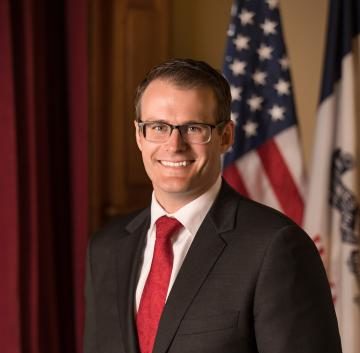 Photo courtesy of governor.iowa.gov website
Iowa continues not to require its citizens to wear a mask to mitigate the spread of COVID-19.
Lieutenant Governor Adam Gregg says the governor's office is continuing its stance on strongly encouraging everyone to wear a mask, despite the White House Coronavirus Task Force's recommendation and other states that have mandated masks.
"When you look at what other states have done with mask mandates, they're essentially strongly encouraging people to wear masks. They really don't come with penalties (and) they really aren't enforceable. It's more of a statement folks of their states to wear a mask."
Gregg points out why Governor Reynolds chose to close certain bars and other businesses in several counties that had colleges.
"So instead of telling everybody in the state that they've got to wear a mask in certain circumstances, instead what she's chosen to do is target where the problem is. And it's clear from the data where the problem was, it was young people, hitting the bar scene in the college communities. So for a limited period of time she did order the closure of bars in that area. We've already seen our case numbers start to go down and our percent positive rate going down as well."
The closures of bars, taverns, nightclubs and breweries in six Iowa counties, including Dallas County, are set to expire on September 20th.