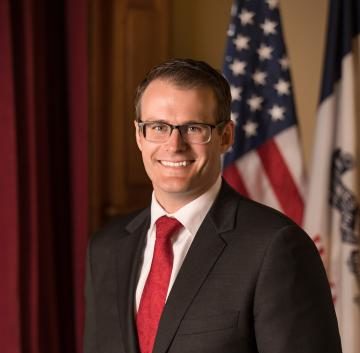 Photo courtesy of governor.iowa.gov website
September is Hunger Action Month, and food insecurity has been even more prevalent due to the COVID-19 pandemic.
Governor Kim Reynolds appointed Lieutenant Governor Adam Gregg to chair the Feeding Iowans Task Force, which has sought creative ways to provide food to Iowans suffering the economic effects of COVID-19. Gregg tells Raccoon Valley Radio that some of the task force's initiatives include the "Pass the Pork" and "Beef Up Iowa" programs, which helps Iowa farmers donate meat to food banks. They also started an operation which involved buying items like pasta, oatmeal, and rice in bulk and repackaging into consumer sizes to give to food banks. Gregg explains how funds from the $1.25 billion allocated to Iowa from the federal Coronavirus Aid, Relief and Economic Security Act have been used to feed Iowans, "So Governor Reynolds used some of those funds to support these efforts. So we've put a million dollars into that bulk purchasing and repackaging operation, between the beef up Iowa and pass the pork there's been about five to six hundred thousand dollars that's gone to the department of agriculture to administer those programs. We've put a million dollars essentially directly to the food banks to support their food acquisition efforts, so it's money that's been well spent but it comes from that federal CARES Act allocation to the state."
Another initiative was formed to take advantage of produce that's left in the field due to grocery store visual standards, called the Iowa Gleaning Network. More information can be found here.