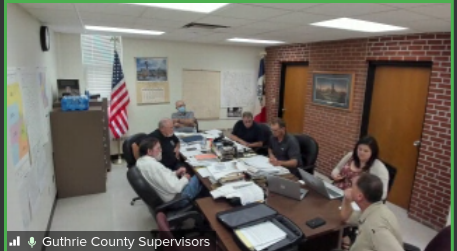 The promotion of a part-time employee to full-time and a pay rate increase were both approved at the Guthrie County Board of Supervisors' meeting Tuesday.
The Board approved County Recorder Tristen Richard's request to promote employee Lisa Johnson to full-time, earning 60% of Richard's salary rate. Richard explained that her office has struggled over the past year to fill a vacant part-time position, so she thought it would be more valuable to the office to have Johnson at full time instead. Richard also mentioned that Johnson wouldn't be opting for the County's health insurance coverage.
Later in the meeting the Board approved Sheriff Marty Arganbright's request to increase part-time deputy Matt Harmann's wage by $5 to $25 an hour. Arganbright said that the County has been "behind the times" with the $20 part-time rate for the last decade. He also spoke of Harmann's value to the department, and how Harmann paid the tuition to attend law enforcement academy himself. The Supervisors asked Arganbright why he won't hire Harmann full-time instead, as the office currently has two vacant positions. Arganbright explained that Harmann has a business and prefers to work part-time for the County. He added that he is close to wrapping up the hiring process for the new deputies.