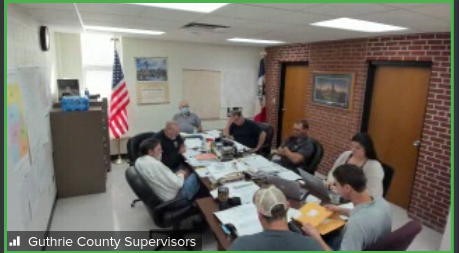 The Guthrie County Board of Supervisors received an update on a wind farm project that plans to have its transmission line run through the county at their recent meeting.
Project Manager Robert McGee of NextEra Energy Inc. attended the meeting with Senior Project Manager Kimberly Dickey attending over the phone. McGee shared that since he last visited with the Supervisors in March, around 90% of property owners have signed volunteer easement agreements for a 40 mile transmission line for the Heartland Divide II wind project being built in Audubon County. The transmission line will run through Audubon, Guthrie, and Adair counties. NextEra Energy was planning to apply for a franchise from the Iowa Utility Board this week, after which the earliest McGee would expect Guthrie County to see construction is this spring.
He also mentioned how his company seeks to be greater involved in the community, pointing out that they gave a donation earlier this year to a Guthrie County food pantry, and they are working with the Warren Cultural Center in Greenfield to possibly update their audio/visual equipment, after the venue provided the space for a public meeting on the wind farm project. McGee said that they welcome any other community involvement ideas from the Supervisors, and he hopes to show them more detailed plans of the transmission line route in the next few months.