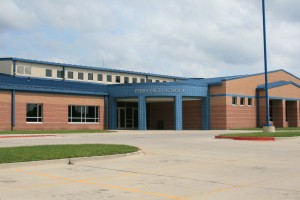 Two high-priority construction projects for the Perry Community School District are nearing the finish line.
Superintendent Clark Wicks tells Raccoon Valley Radio while there are still some punch list items of the industrial tech and wrestling room project that need to be completed, they are at the point where they can start taking advantage of the new spaces, "Kids are in there. They're in both the auto shop and the industrial tech room and have class there. We have not had any classes per se in the multi-purpose and wrestling room. Junior Jay Wrestling has come in to use it a couple of times, we've had some other wrestlers use it. We have new mats that have come in, the turf just came in (Monday.) I think it's almost second to none. We went from this very small space for two programs, now we have very very large rooms, and it should fit all of our needs."
The last major hurdle cleared throughout the project was passing fire and city code inspections, which both facilities passed earlier this summer. The project was funded from a voter-passed $6.5 million bond referendum last February.