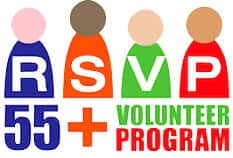 Image courtesy of RSVP 55+
A program returns to Greene County to help those individuals and families in need for specific clothing items.
RSVP 55+ Volunteer Program is doing its 12th Annual Lots of Socks and More Drive from October 18th-November 15th. The clothing drive collects socks and underwear for youth and diapers and pull-ups for infants and toddlers. Last year, the program collected over 1,410 items for local children, and distributed through Greene County New Opportunities. Those families that receive items are primarily the ones who participate in the winter outerwear and holiday food baskets with New Opportunities. 
Items will also be distributed to the Greene County and Paton-Churdan school districts as needed, along with diapers and underwear are also given to the Greene County Early Learning Center. This program is in conjunction with the Make a Difference Day, which is on Saturday, October 24th. 
The "Sock Hop" themed donation boxes are in every library in the county, as well as several businesses and churches in each community in Greene County, plus Medicap Pharmacy and the Greene County Medical Center. Monetary donations are accepted, and checks can be made payable to "RSVP Lots of Socks" and mailed to P.O. Box 104 in Jefferson.