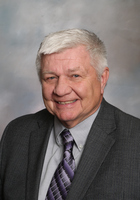 A Guthrie County farmer and Iowa Corn Promotion Board Director was pleased to see a bill recently introduced in the nation's capital that supports ethanol production.
The U.S. House of Representatives introduced the Next Generation Fuels Act last month, which establishes a new 98 Research Octane Number (RON) standard for gasoline, and requires that sources of additional octane result in at least 30-percent fewer greenhouse gas emissions than unblended gasoline. A new 98 RON would support midlevel blends like E-25 and E-30 which would generate a new corn grind. Ralph Lents of Menlo says this legislation will boost long-term corn demand for clean, affordable ethanol, and that it recognizes the high octane, low carbon benefits of corn ethanol, "We've been pushing real hard for several years to get this done. The secret to selling more ethanol is to get higher blends, right now we're doing a lot of 10-percent at the pumps but if we could get 15, 20, 30- percent at the pumps it would really, really increase ethanol usage and improve our markets drastically."
Lents says he and the rest of the ICPB and Iowa Corn Growers Association look forward to continuing to work with Congress to build support for policies that take greater advantage of ethanol's benefits.