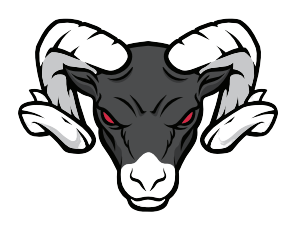 There was no suspense on Friday night at Linduska Field in Jefferson as the Greene County football team scored on its first six possessions and rolled to a 49-0 Class 2A first round playoff victory over Red Oak. Coach Caden Duncan's Rams improved to 6-2 on the season with their fifth straight win while the Tigers lost for the 20th time in a row dating back to 2018 and they finish 0-8. The game was heard on KG98 and streamed on www.raccoonvalleyradio.com.
Quarterback Bryce Stalder threw four touchdown passes, Nathan Black had a rushing TD of nine yards, another on a recovery of a bad punt snap in the end zone, and he threw a two-point conversion pass. Jackson Morton scored on a TD run of six yards and a 23 yard pass reception, while Jaxon Warnke caught touchdown passes of one and seven  yards, and Max Riley had a touchdown reception covering four yards. The Rams led 22-0 after one quarter and 42-0 at the half. The 35 point margin continuous clock went into effect with 9:24 to play in the second quarter.
The Rams had 316 yards of total offense to 56 for Red Oak. The Tigers had -33 yards at halftime and most of the Greene County first team defenders didn't play in the second half. Stalder was eight of 10 passing for 136 yards and Black  had 89 rushing yards on 12 carries. Riley led receivers with two catches for 44 yards. RO was held without a single yard passing, as they went 0-2-0.
Greene County plays host to Clarinda on Oct. 23 at Linduska Field in the second round. The contest will be a rematch of week six when the Rams won with a goal line stand in overtime, 22-15. The Cardinals will make their second trek to Jefferson in three weeks and they are 4-4 after topping Shenandoah in the opening round 55-20. Friday's game will be heard on KG98 and streamed on www.raccoonvalleyradio.com with kickoff at 7 p.m.