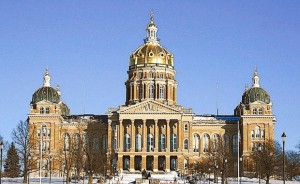 With the election about two weeks away, voters in Adair, Guthrie, and portions of Cass and Dallas counties should be informed about the candidates running for State House District 20.
Democrat Ryan Morrison of Stuart is running against Republican incumbent Ray Sorensen of Greenfield. Morrison owns the Country Kitchen in Stuart as well as other real estate property, and he shares one of the reasons he is running for the legislature, "I really feel like there hasn't been enough attention paid to our rural communities. As a business owner who's constantly looking for help there's a real housing crisis in rural communities, there's just not enough housing to support the workers we need to really grow these communities. That's why a lot of rural Iowa is dying out."
An artist and business owner, Sorensen has served one term in the legislature. He shares some of his priorities if reelected, "There's still things that need to be done. Schools, making sure rural schools have the resources they need to operate and remain open. Healthcare, making it affordable and accessible and particularly rural hospitals. They're obviously in critical need to stay running and we need to focus on making sure they have what they need to stay open."
You can hear more from Sorensen and Morrison during the Meet the Candidates In-Depth News Magazine.