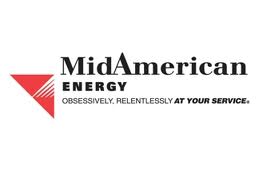 MidAmerican Energy is repairing a broken wind turbine blade that happened last week in Greene County.
MidAmerican Energy Spokesperson Tina Hoffman tells Raccoon Valley Radio a blade from one of their wind turbines broke off near Paton last Thursday. The turbine is part of the Beaver Creek Wind Turbine Farm in the northeastern portion of Greene and the northwestern portion of Boone counties. Hoffman says no one was around during the incident, and the broken blade didn't cause any property or crop damage, due to it falling into a harvested field. 
Media Relations Manager Geoff Greenwood tells Raccoon Valley Radio the broken blade has been removed and a new blade is due to be installed, along with a second blade that was damaged when the first blade fell. Hoffman says the cause is due to a lightning protection system on the blades, which a similar incident happened last month to a MidAmerican Energy turbine in Adair County. Hoffman notes they are currently inspecting any turbines they believe have the same type of lightning protection system, and have paused those  turbines at this time. She says this is the first time since the turbines went online in the Beaver Creek Wind Turbine Farm that a blade has broken off. 
Hoffman adds, they constantly inspect all of their turbines on an annual basis and a monitoring system can also notify them of any issues.