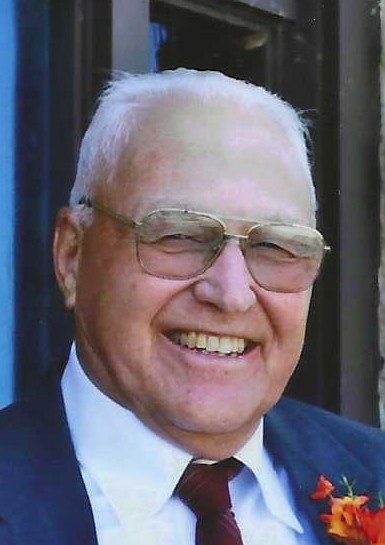 Lloyd J. Nees, age 89, of Coon Rapids, IA, passed away on Monday, November 16, 2020 at Thomas Rest Haven in Coon Rapids.
Mass of the Christian Burial will be celebrated at 11:00 A.M. on Friday, November 20, 2020 at Annunciation Catholic Church in Coon Rapids with Fr. Patrick Behm as Celebrant assisted by Deacon Louis Meiners.  Lector for the Mass will be Cathy Nees.  Organist for the Mass will be Diane Slater.  Casket bearers will be Lloyd's grandchildren.  Burial will be in the Coon Rapids Cemetery and attendance at the graveside service is limited to 30 people.  Military honors will be conducted by the United States Air Force.
There will be no public visitation prior to the Mass.  Those in attendance at Lloyd's mass are required to wear a face mask and abide by current Covid-19 social distancing guidelines.
Funeral arrangements are under the direction of the Dahn and Woodhouse Funeral Home in Coon Rapids and online condolences may be left for the family at www.dahnandwoodhouse.com
Lloyd was born on July 29, 1931 in Carroll, IA, and was the son of William and Agnes (Ortner) Nees.  He graduated from Coon Rapids High School 1950.  Following high school, Lloyd enlisted in the United States Air Force and served during Korean Conflict as jet mechanic.  Following his honorable discharge, he returned to Coon Rapids and was married to Elizabeth "Betty" Messersmith.  The couple made their home on a farm south of Coon Rapids where they raised their five children.  Lloyd enjoyed spending time with his family and friends.  He had a passion for farming and he enjoyed raising livestock along with going to the implement dealers and visiting with local farmers.
Lloyd is survived by his wife Betty Nees of Coon Rapids; his children and their families: son Larry Nees (Cathy) of Coon Rapids, daughter Laura Croonquist (Dave) of Waterloo, NE, daughter Mary Brown (Doug) of Orient, IA, daughter Angela Porter (Chuck) of Mapleton, IA, and son David Nees (Annette) of Dedham, IA; fifteen grandchildren; five great-grandchildren; two sisters: Shirley Fick of Bremerton, WA, and Marvel Aiken of Silverdale, WA; two sisters-in-law: Mary Ann Stangl of Minden, NE, and Charlotte Haubrich (Ronald) of Carroll, IA; and several nieces, nephews, and other extended family members.
Lloyd was preceded in death by his parents William and Agnes Nees; his mother and father-in-law Carl and Emma Messersmith; his sister Mary Jane Miller (Lloyd) and in-laws: Alan Aiken, Lee Fick, Jerry Stangl, and two siblings in infancy.