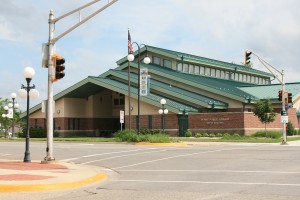 While the Perry Public Library has been closed to the public since March due to the COVID-19 pandemic, the staff has remained engaged with the community.
Library Director Mary Murphy says they've had to get creative when creating safe and fun ways to connect with patrons. Murphy tells Raccoon Valley Radio it's been a challenging adjustment, "It's a whole new world. Zoom is pretty easy, I've just conquered sharing my screen. So I have these little mountains that I have to climb. We have very successfully been having our Board meetings electronically and having them open to the public."
The library is getting ready for their winter reading program. Readers of all ages are invited to participate in a program that starts December 1st. Participants will be able to earn prizes for reading their favorite books.
Murphy initially planned to reopen to the public Monday, but due to the rising number of COVID-19 cases in the area, the reopening has been postponed. The Library will continue their contactless curbside services and offer computer services by appointment. Murphy says the Board of Trustees will review reopening the facility during their next meeting on December 10th.