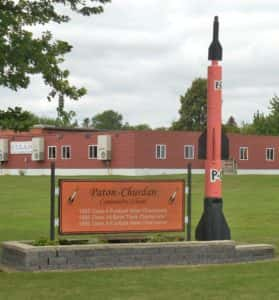 Veteran high school basketball coach Bud Fagen spent decades coaching girls at East Greene. Now, after some years away, he's back coaching in Greene County, only now he's at Paton-Churdan, and is coaching boys. His grandson, Bradyn Smith, is among his players, and his daughter, Annie (Fagen) Smith is the principal at P-C.
The coach is in his third season with the Rockets and he talked with Raccoon Valley Radio about how the early season practices have gone. "It's been good. I've really enjoyed getting back into it, and have enjoyed the boys. I think we've come a long ways in the last couple years- it's been good!"
The environment is one he enjoys. "It is a really positive experience here. I've been around schools a long time, and as a whole, the kids are really as polite and respectful as any group I've been around."
The P-C girls and boys are set to open their season on Dec. 1 in Westside vs. Ar-We-Va.