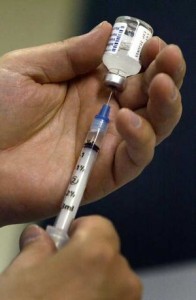 Greene County Public Health is seeking any healthcare workers that want to get the COVID-19 vaccine.
Public Health Director Becky Wolf says nearly 200 doses of the Moderna vaccine have been given to healthcare workers and long-term care residents. About 100 doses of the vaccine are left and Wolf is asking for any healthcare workers that want to get the vaccine to call them and make an appointment. Wolf reassures everyone that the vaccine is safe.
"The coronavirus vaccine has been studied and worked on clear before the pandemic began, it was already in the process. It's just remarkable that we can move this quickly along and have something that we can actually use."
Wolf notes the vaccine requires two doses, with the second one to be administered 28 days after the initial dose. She points out that under the Emergency Use Authorization by the federal government, all COVID-19 vaccines are free of charge. Wolf hopes to move to the next tier of priority groups soon. Contact Greene County Public Health at 515-386-0564 for healthcare workers to schedule an appointment.