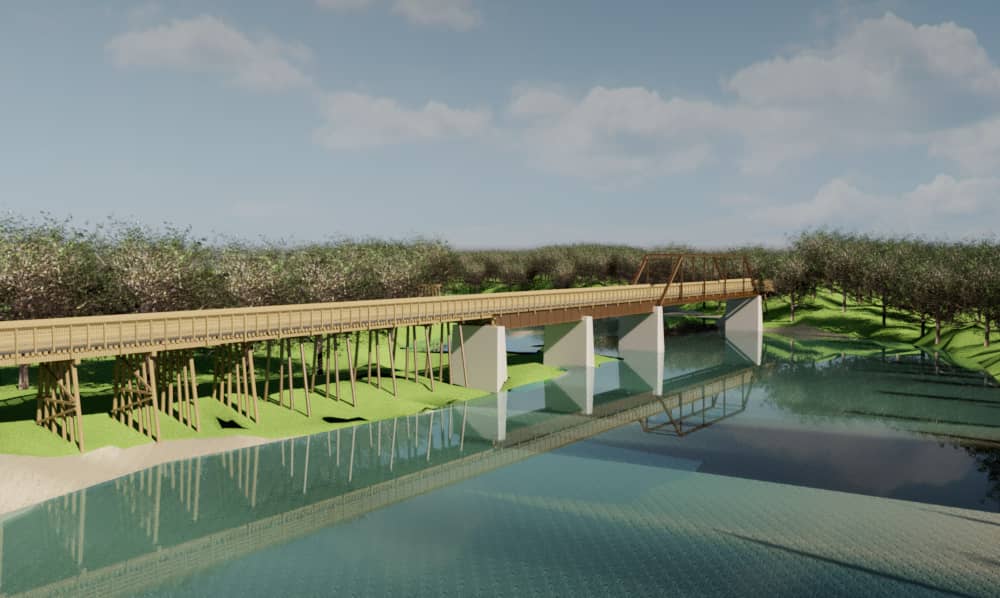 One of the conceptual options for the bridge. Image courtesy of Dan Towers
Good news for those looking to travel on the Raccoon River Valley Trail through Greene County, the damaged bridge from the floods of 2019 will be repaired this year.
Greene County Conservation Director Dan Towers told the Board of Supervisors at their Monday meeting that the Federal Emergency Management Agency and the State Historic Preservation Office of Iowa have confirmed the final plans to repair 400-feet of the 600-foot structure that was damaged from flooding and ice jams on March 15, 2019. Towers said WHKS Engineering from Ames estimated the cost of nearly $900,000. Towers explained that 75-percent of the total cost would be through FEMA, ten-percent from Iowa Homeland Security, and the final 15-percent would need to be covered locally, which is about $130,000. 
Towers said plans are to replace the collapsed wooden piers with concrete and add steel beams for the support structure of the bridge. He told the Board they are planning for a January 28th bid letting, with a public hearing and awarding of the contract to take place during the Supervisors meeting on February 1st. Towers said the contractor can then be on site by the end of February. He talked about the timeline to get the piers completed before they run into an issue with an endangered fish species that lives in the Raccoon River.
"May 15th we probably won't be able to work in the river because of the Topeka Shiner restrictions. So Josh's (from WHKS Engineering) hopes are (that) we can get those concrete piers in place. They also include 35-foot h-pile driven in and under those (piers). So hopefully once those piers are in place, then we can do all the work we want to above that."
Towers anticipated a July 31st completion date. Trail users have had to travel on the Squirrel Hollow pavement to get around the closed bridge, which adds 13 additional miles to get to and from Jefferson on the trail.