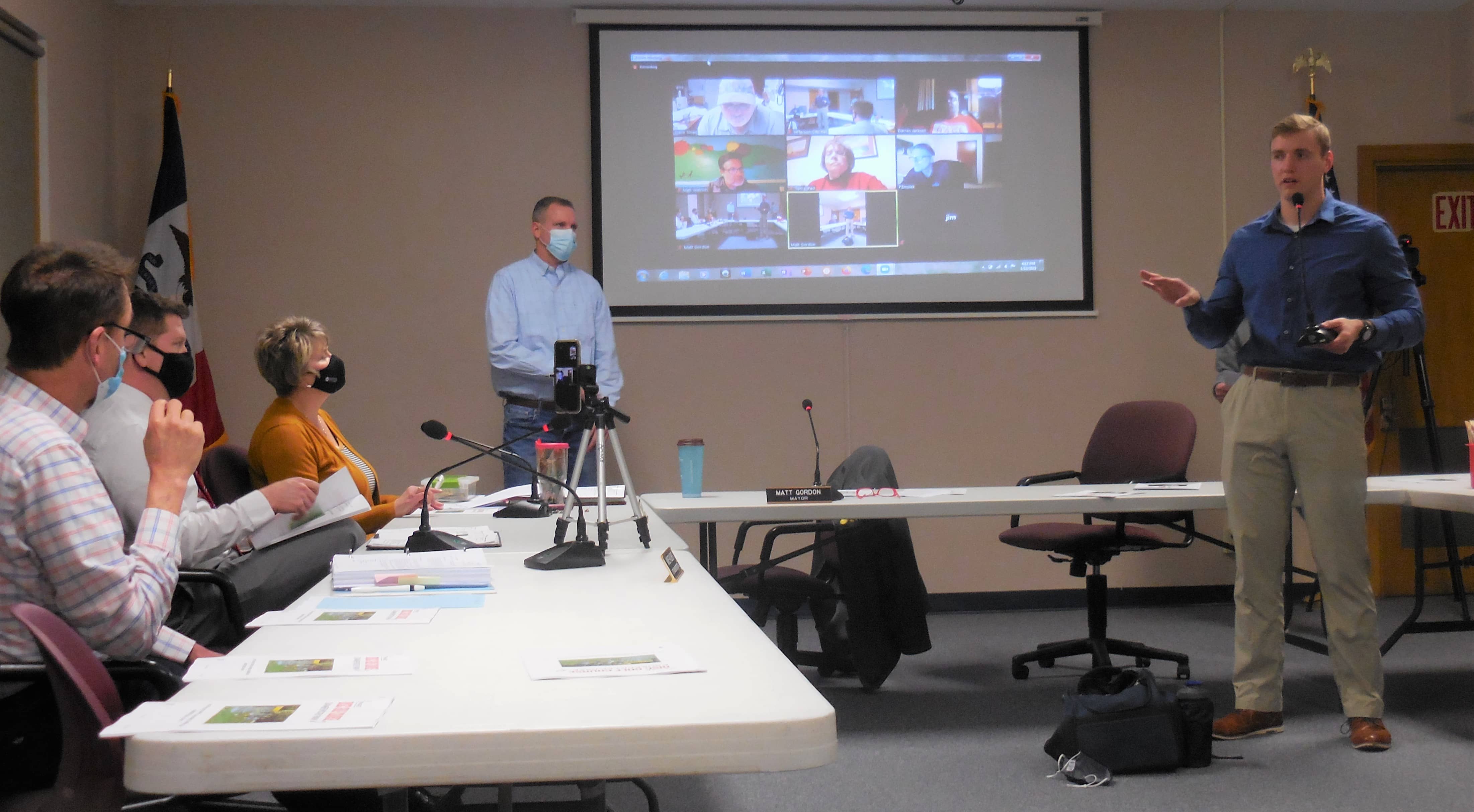 Dan Rohner (right) makes presentation on disc golf to the Council
The Jefferson City Council met Tuesday night in regular session.
The meeting started with a public hearing to sell property at 204 East McKinley Street to Jim and Heather Hagar for $2,000, which the Council approved. The Council then set February 9th as the public hearing date of the annual maximum levy as set by the state for municipalities to have regardless if they go over the maximum of two-percent, which the City is proposing to go below that threshold.  
The Council set January 26th for two public hearings. One is to refinance an existing $4 million bond to save about $284,000 of interest payments. The other hearing is to issue $2.5 million in bonds to continue to renovate some of the city-owned downtown buildings and then use tax increment financing to reimburse those expenses. The Council then agreed to issue a bond to support the construction of the Greene County Animal Facility, and to hold a separate public hearing on the topic.
The Council also approved an amendment to the consulting agreement for an additional $500 fee with Molly Myers Naumann to include the former Pizza Ranch building to be included in the historic district and possibly qualify for federal and state historical tax credits. Additionally, the Council approved a $9,700 bid from Computer Concepts to purchase a new city server, along with approving all committee appointments as presented, a letter of support for the Jefferson Fire Department to apply for a Department of Homeland Security grant for a new generator, and an addendum to an agreement with Piper/Sandler for additional work on issuing bonds of $1,500.
The Council also approved a new video agreement with Sebourn Video Services to stream city council meetings for $200 per meeting, with an additional $20 to stream via Zoom and $10 to stream with Facebook Live and YouTube Live, along with a one-time fee of $363 for multi-camera streaming equipment. 
Finally, the Council heard a presentation of an 18-hole disc golf course at Daubendiek Park. The presenters noted that the total cost of $18,000 would be raised through grants and sponsorships. The Council took no action following the presentation.