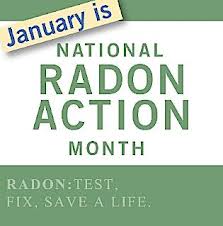 January is National Radon Action Month, and it's a time to look at the odorless and colorless gas that can be deadly in homes.
Greene County Environmental Administrator Chuck Wenthold says radon is a gas that you can't see, smell or taste, but it is the leading cause of lung cancer deaths among non-smokers in the U.S. He says there are steps that people can take to reduce their exposure to radon. 
Homeowners are encouraged to test their homes for radon. There are free kits available that will tell you if your home has high levels of radon. Homeowners can attend a National Radon Action Month event, spend some time this month encouraging other people to test their homes, and buy or renovate your home to be radon-resistant.
Contact Wenthold for more information or where to find radon test kits.