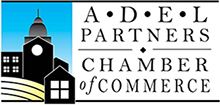 The Adel Partners Chamber of Commerce is planning for the warmer weather that is coming up soon. 
Adel Chamber Director Deb Bengston says the upcoming home garden tour scheduled for June 27th is continuing to take shape. Bengston says this event, planned by This Is Adel, is another way to engage residents with things in the community, while also bringing others to the community. 
"One of their strategic plans with this group was to do two events a year to pull people in from Adel and the surrounding area to be able to showcase Adel and what all we offer. So, this has been in the planning for about a year-and-a-half."
While not everything is set in stone yet as tickets are going on sale on April 22nd for $10 and $20 for VIP tickets, which will include a stop at Penoach Winery for other activities, Bengston encourages people to keep up with the Adel Chamber social media channels before the event. 
"We haven't finalized all of the ticket information so they are going to have to follow us on our Facebook page or watch our website for further details on the tickets."
Bengston says there will also be a free concert going on from 4-7 p.m. at the Stage and Pavillion on June 27th.