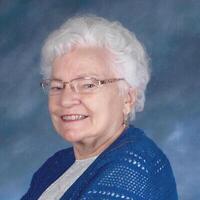 Funeral services for Beverly Irene Onken, 87, of Glidden, IA, will be held at 11 A.M. on Wednesday, April 7, 2021 at the Peace Lutheran Church in Glidden. Burial will be in the Merle Hay Memorial Cemetery in Glidden. Visitation will be held at the Peace Lutheran Church in Glidden for one hour prior to the funeral service on Wednesday.
Those in attendance at Beverly's service are asked to abide by Covid-19 guidelines and facemasks are required at the church.
Funeral arrangements are under the direction of the Dahn and Woodhouse Funeral Home in Glidden and online condolences may be left for the family at dahnandwoodhouse.com.

Bev is survived by three daughters: Barbara Etzen (Charles) of Gilbert, AZ, Wendy Bock (Bob) of Glidden, and Peggy Gibson of Fountain Hills, AZ; eight grandchildren: Derik Gibson (fiancée Jenny Kinder), Heidi Thell (Peter), Mandi Bock (Shawn), Andrea Wirth (Michael), Josh Bock (Tricia), Drew Etzen (Karissa), Devon Ellsworth (Jesse), and Morgan Green (Rob); 21 great-grandchildren; a sister Wanda Borgeson of Omaha; two brothers: Larry Finley (Cindy) of Auburn and Roger Finley (Marie) of Gilbert, AZ; a brother-in-law Richard "Dick" Onken of Glidden; and numerous nieces, nephews, and cousins.