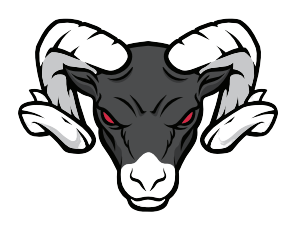 In boys' soccer on Thursday night in Carroll at the Kuemper Catholic Fieldhouse field, Greene County got by the host Knights 1-0. A goal by senior Alex Roberts less than 12 minutes into the contest was the only scoring. Both teams had other chances, including the Rams getting five shots on goal in the first 10 minutes, but Roberts' fourth goal of the season stood up. In all, Greene County had 25 shots and 16 shots on goal, far more than the Knights.
Coach Carl Behne's Rams improved to 7-3 while the Knights fell to 4-4. Greene County had its five match winning streak stopped earlier this week by Winterset, and the win at Kuemper made it six wins in the last seven outings for the Rams, who are tied for ninth place in the April 27 Class 1A rankings. Coach Behne said he was confident the Rams would improve on converting one of 16 shots on goal. He added freshman goalkeeper Gabe Ebersole played well with a shutout and 10 saves.
Greene County's girls' soccer team played Thursday at Grandview Christian in Des Moines and lost 10-0 to fall to 0-8 on the season. Coach Peyton Paddock told RaccoonValley Radio the game was ended 21 minutes into the second half by the 10-goal "mercy rule." The coach added the players are showing major improvements in skills and knowledge of the game.