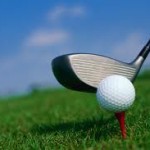 It's Greene County and ADM in high school girls' golf at 4 p.m. today at The Hill Golf Course just west of Grand Junction. Coach Josh Carlson's Rams are hoping to have at least the minimum four girls play to qualify for a team score, which has been an issue at times this season.
On Friday, the Rams played at the Roland-Story tournament with only Alex Miller and Josie Weaver completing 18 holes. Miller was sixth among 29 golfers with rounds of 52-44=96 and Weaver shot 74-70=144.
The coach said Miller's second nine of 44 was the lowest nine hole round of her career by six strokes and the 96 was her best 18 hole score. He was also pleased that Weaver improved her second nine on Friday by four strokes.
Gilbert won the team title at 358 with R-S at 364, followed by North Polk (Alleman) 437,, South Hamilton (Jewell) 443, and Bondurant-Farrar 499.