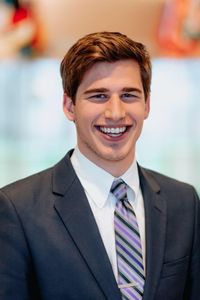 Photo courtesy of ballotpedia.org
With the most recent new law that was signed by Iowa Governor Kim Reynolds relating to mask mandates, a local lawmaker was supportive of the legislation. 
House Representative for District 19 Carter Nordman says he is someone who believes in following the science as it relates to wearing masks, specifically relating to students wearing masks in school against COVID-19.
"We have known from very early on in this pandemic that students don't transmit COVID-19 like adults do. Every adult is available and eligible to get a COVID-19 vaccine, those are widely available for anyone who wants one. So, we are following the science and it was time to unmask our schools."
Nordman tells Raccoon Valley Radio there were also psychological effects from students not being able to interact with one another face to face. 
"There were some schools who were saying we are still looking at whether we are going to require masks for next fall or maybe even for the flu season. That is just not following the science."
Nordman says the legislation was aimed towards helping parents and students who were asking for changes to the mask mandate. Additionally, the law also bans counties and cities from mandating masks on public property.