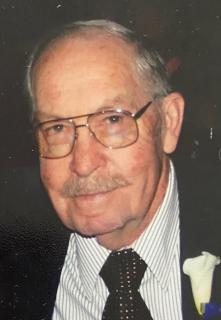 John Novy, 88, of Greenfield
Funeral Services:  Mass of Christian Burial will be held on Saturday, June 12, 2021, at 10:00 a.m. at the St. John's Catholic Church in Greenfield.   Burial in the Greenfield Cemetery with an honor guard from the Iowa State Patrol and military graveside rites conducted by the Greenfield American Legion Head-Endres Post No. 265 and V.F.W. Post No. 5357.  The Council of Catholic Women will serve lunch in the church basement following the completion of all services. The family wishes to invite all to attend this fellowship.  The Steen Funeral Home in Greenfield is in charge of the professional arrangements.  Online condolences may be left to the family at www.steenfunerals.com.
Family Visitation:  The family will greet friends on Friday, June 11, 2021, at the St. John's Catholic Church in Greenfield from 5:00 p.m. to 7:00 p.m.
Memorials:  May be directed to St. John's Catholic Church.
Survivors:  He is survived by Jean, his wife of 64 years and their twelve children – Keith, Dixon, Carolyn, Linda, Cathy, David, John, Mary, Margaret, Steve, Matt and Mark, his 24 precious grandchildren, 8 great grandchildren as well as many nieces and nephews.