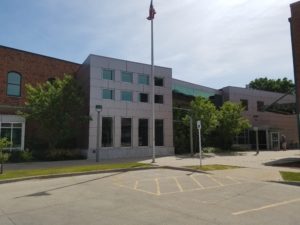 For those wanting to follow their Olympic dreams, although on a smaller scale, the Adel Public Library has activities this week. 
Adel LibraryAssistant Director Amy Linney says there is a scavenger hunt, where kids need to locate photos in the children's book section, as well as an obstacle course tomorrow beginning at 10 a.m. until noon. 
"This will involve several stations, three stations downstairs and three stations upstairs. Which will have fun Olympic-themed obstacles such as hurdles and weight lifting, an equestrian course, javelin throw, and then it all ends with a torch run that the children can take part in and they get a little trophy as a prize, as well as an Olympic-themed craft."
Linney tells Raccoon Valley Radio the scavenger hunt will take place the rest of this week and participants can earn a prize after completing the hunt. Linney says it feels good to have people back in the library again as last year the pandemic prevented that. 
"We are thrilled to be able to have children back in here taking part in our summer reading program and several of our actual summer programs."
Linney says the Olympic obstacle course is open to everyone, and you can run the course as much as you want.