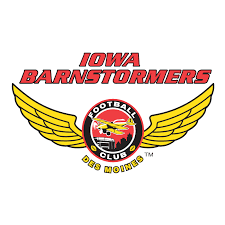 The Iowa Barnstormers are a minor league professional football team playing in the Indoor Football League. President of the team and one of its owners is Jeff Lamberti, and he spoke to Jefferson Rotarians on Monday at the group's regular meeting at Jefferson Community Golf Course.
Lamberti said the Barnstormers have had players get signed by NFL and CFL teams. "In fact, we had one of our former players play for Seattle in a Super Bowl, so it does happen, and it is real. We've had several players sign with teams from the Canadian Football League."
The Barnstormers have a 4-4 record and three of their last four regular season games are at home at Wells Fargo Arena in Des Moines. Iowa hosts the Greene Bay Blizzards this Saturday, July 24 at 7:05 p.m.