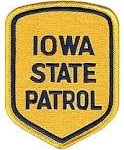 The driver that was killed in a car vs train crash in Greene County Wednesday morning has been identified. 
According to the Iowa State Patrol, the incident happened at 8:40am Wednesday when 62-year-old Marvin Lee Krieger of Coon Rapids was driving south on County Road P-33 in a 2015 Toyota Corolla. The crash report shows Krieger failed to stop for a westbound Union Pacific train at the railroad crossing on County Road P-33 as the train struck the Corolla and killed Krieger. According to the report, Krieger was wearing his seat belt at the time of the crash.
The Greene County Sheriff's Office, Iowa State Patrol, Grand Junction and Jefferson fire departments, Iowa Department of Transportation and Greene County Ambulance assisted at the scene.