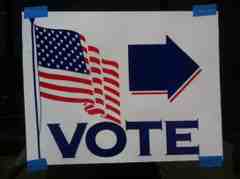 As the upcoming city/school elections continue to approach quickly, absentee voting is now open in Dallas County. 
Dallas County Auditor Julia Helm announced that absentee voting is now available ahead of the November 2nd city/school elections and can be done in the Dallas County Auditor's Office in Adel between the hours of 8 a.m. to 4:30 p.m. Monday through Friday and 8 a.m. to 5 p.m. on November 1st. 
Absentee ballots must be requested for in writing and the form can be found either online or at the auditor's office. All requests for ballots must be received by the auditor's office by 5 p.m. October 18th and must be returned no later than 8 p.m. November 2nd. 
For more information or to get your absentee ballot request form you can go here.