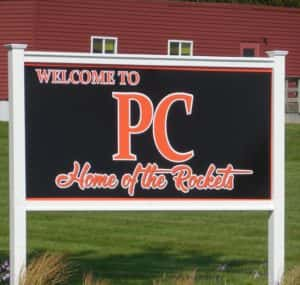 Paton-Churdan traveled to Mondamin on Tuesday night vs. West Harrison in Rolling Valley Activities Conference volleyball and dropped the match in five sets. Match scores were not made available. The Rockets went 0-8 in the conference and is 1-12 overall while WH finished 1-7 in RVAC play and improved to 4-19.
Taryn Baugh was 16 of 19 serving with three aces. Carmyn Paup was 18 of 22 at the service line with four ace serves with Emma Stream at 18 of 20 with one ace, and Megan Palmer was 11 of 14 with two aces. Paige Teeples was 17 of 21 with four ace serves. A trio of Rockets had double-digit kills with Paup at 15, Teeples 14, and 12 for Stream.
Tomorrow is the final home match of the season for Paton-Churdan. They host an Eagle Grove that entered this week with no match victories, then travel to Anita on Saturday for the RVAC Tournament. Class 1A Region 4 play starts on Monday, Oct. 18 at Ft. Dodge St. Edmond vs. the Gaels.