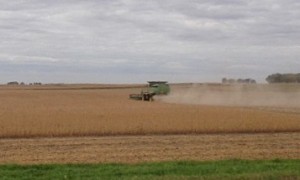 Harvest season in Iowa kicked off earlier than normal and now yield potential is starting to be on a historic pace.
Landus Cooperative Field Agronomist Zach Minnihan says about 75-80-percent of soybeans and 10-15-percent of corn has been harvested in Greene County. He tells Raccoon Valley Radio, the top end of corn yield is 290 bushels per acre and top end for soybean yields are 80 bushels per acre. Minnihan talks about the factors that are impacting the best yields he's ever seen.
"Our stand counts were almost perfect. Everything really came up and nothing drowned out in the spring. Critical timely rains throughout that crop's life, both corn and beans. And then some of those heavy dew mornings when you've got to run the wipers that accumulates a little bit of moisture too, especially in a corn plant."
Greene County and west central Iowa saw some rain on Wednesday, which Minnihan says was welcomed and needed, and how that impacts the harvest season moving forward.
"Coming in for guys to do fieldwork, to turn this dirt over, to kind of get these corn stalks and soybean stubble ready. We talk about big yields, there's a lot of residue from producing a big yield typically. And then just putting moisture back in our soil profile."
According to the Iowa Crop Progress and Condition report from the Iowa Department of Agriculture, farmers had 5.3 suitable field days last week. Statewide, 62-percent of corn and 63-percent of soybeans were rated good to excellent condition.