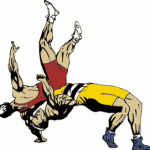 IA Wrestle released its 2021-22 preseason individual and team Iowa high school wrestling rankings Thursday and Greene County High School is mentioned more than once in Class 2A.
Junior McKinley Robbins won the 120 lbs. Class 2A State Championship in February. He has a 62-2 career record for the Rams and was 31-0 en route to the title, the first for the Jefferson-based program since 1994. Robbins is ranked first at 126 lbs. by the online publication.
Transfer student Kale Petersen won the 1A title in Feb. at 106 lbs. for West Fork (Sheffield) and he will be eligible to wrestle for Greene County in mid-January. Petersen is also a junior and is ranked first at 113 lbs.
First cousins Gavin Scheuermann and Nate Black are both ranked in the number 12 spot. Scheuermann qualified for State as a ninth grader last year at 145 lbs. and is listed at that same weight, although that may or may not be the case. Black, a senior, is ranked at 160 lbs.
The Rams, under the direction of Zach Beekman, are ranked number 6 as a team by IA Wrestle. Official practice begins Monday, Nov. 15. The Rams open the season in Van Meter on Nov. 30 vs. the host Bulldogs, Ogden, and PCM (Monroe).