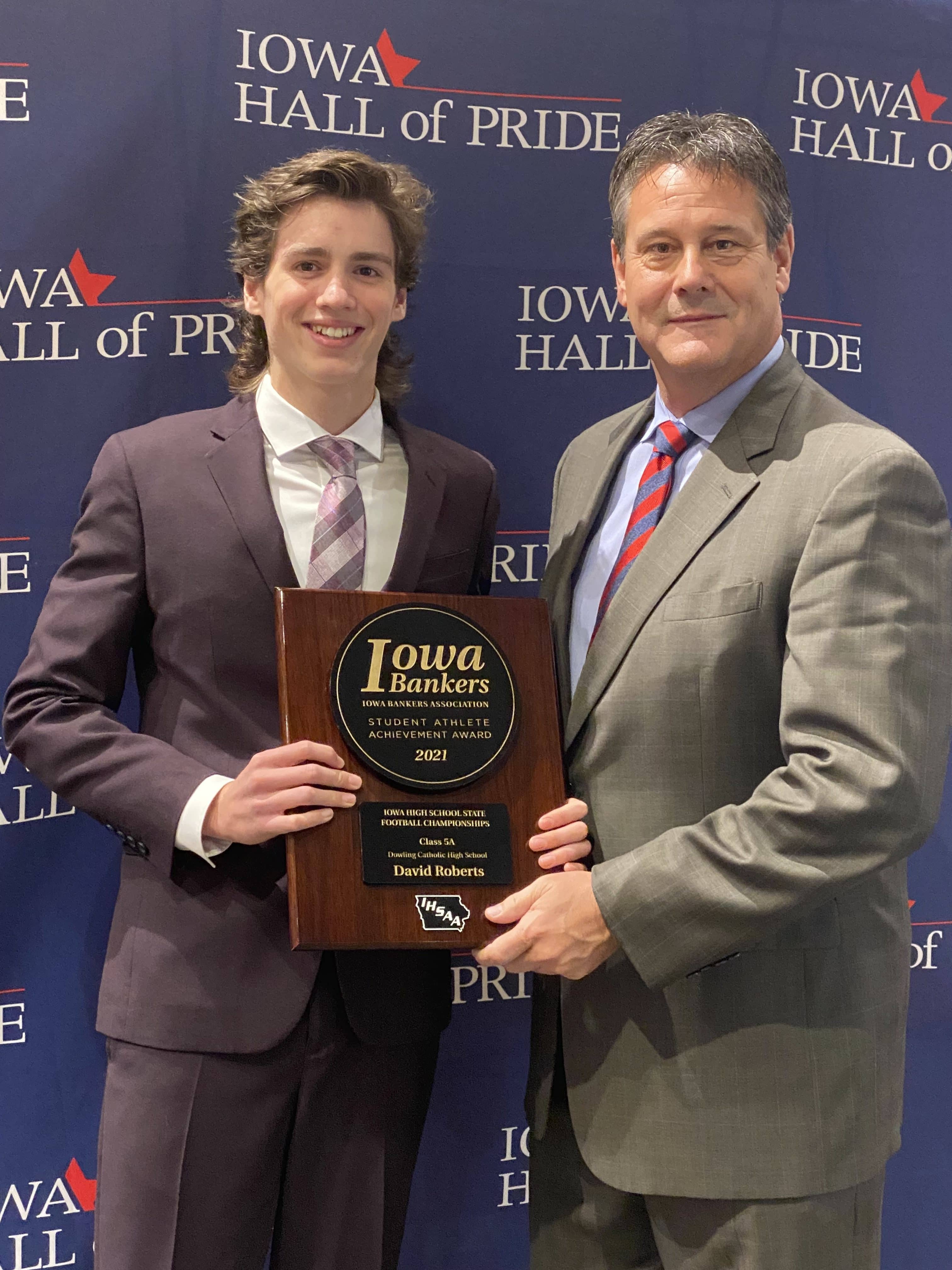 2018 Perry St Patrick's graduate David Roberts received the distinguished Iowa Banker Student Athlete Achievement Award Friday night during the Iowa High School football state championships.  Roberts is currently a senior at Dowling Catholic High School in Des Moines and was nominated by Dowling Hall of Fame coach Tom Wilson.  "He knows I work hard in school and work hard especially for the team," stated Roberts.  "He's proud of the young man I've become and he saw in me I had the potential to win so he told me he was going to nominate me."
Local Raccoon Valley Bank President and former Perry neighbor Terry Nielsen presented Roberts with the award.
"So when you fill out the application, you're allowed to put down the name of a banker that you would like to present the award so I thought there would be nobody better than Terry."
Roberts was the placekicker for Dowling and saw some reps at quarterback for the Maroons this season and credits football as a big reason for his smooth transition from Perry to Dowling Catholic.  "Playing football was huge for me as I started the assimilation process from Perry to Dowling, especially during my freshman year not knowing a lot of people.  Had I not played football and went through the offseason workouts, it would have been tough to meet people.  I learned so many life lessons at Dowling and am proud to say I was coached by Coach Wilson and the fine staff at Dowling.  I had some of the best teachers and appreciate everything they did for me.  I loved it there."
Roberts is still deciding on what college he will attend in the future and says a few have contacted him about playing football including St John's of Minnesota.