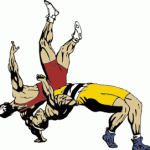 The 2021 Tulsa Kickoff Classic Wrestling Tournament was held last weekend and three Greene County students placed high in the national event. Jonathan Thompson won the 61 lbs. weight class in the 10 and under division and the other two competed in the 18U portion of the event. Thompson won the title match 6-5 after giving up the opening takedown. He led 4-2 and 6-3 before winning by one point.
McKinley Robbins was second at 132 lbs. and Kale Petersen was third at 120 lbs. Both were Iowa State Champions in Feb., Robbins in Class 2A for Greene County at 120 lbs. and Petersen in 1A at 106 lbs. for West Fork (Sheffield). Thompson, Robbins and Petersen, train in Jefferson year 'round at Sebolt Wrestling Academy.
Robbins lost the title match 1-0 on a third period escape, while Petersen lost 10-8 in overtime in the semifinals, then came back for two consolation victories, one of which was over fellow Iowan and two-time State Champion in 2A from Webster City in Camron Phetxoumphone. That score was 11-7.
Greene County starts its high school season on Nov. 30 in Van Meter vs. VM, Ogden, and PCM (Monroe). Petersen isn't eligible to wrestle for the Rams yet, due to transfer rules, but Robbins and fellow State Tournament veterans Brenner Gallagher and Gavin Scheuermann, are expected to be in the lineup, along with other Rams who were 2021 District qualifiers. Other letter winners and a sprinkling of newcomers could fill out the lineup.