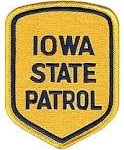 An annual goal by an Iowa law enforcement entity has once again missed its target.
Iowa State Patrol District 4 Resource Officer Shelby McCreedy tells Raccoon Valley Radio they're yearly goal is to have less than 300 fatalities on the roadways. However, she says as of November 23rd, they are currently at 318 traffic-related deaths, which is 25 more than at that point last year and is the second deadliest year, next to 2016, which had 402 deaths. She points out the two leading causes of fatal crashes are speed and seat belt usage. 
McCreedy notes that state law only requires occupants in the front seat to be restrained. She explains that 49-percent of the fatal crashes this year were due to individuals that were unrestrained, and the numbers are unclear as to whether or not those individuals were in the front or back seat.
"Which is why I preach all occupant restraint. Just because you don't legally have to do it, you're not doing it because the law says you have to do, you're doing it because it will substantially increase your chances of surviving a crash."  
Despite the fact that the less than 300 fatalities goal was not met this year, McCreedy believes all of the traffic initiatives this year have done some good.
"Honestly the goal is to change their behavior. I have had some individuals tell me, 'I wasn't really concerned about wearing my seat belt, but when you talk about it – I try to make sense of it. I try to link all of the pieces together so that way the puzzle makes sense.? 
McCreedy adds that it has been since the 1920s when the state's traffic-related deaths were under 300.