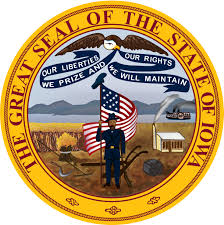 Image courtesy of iowa.gov website
There's still time for those who were impacted by the December 15th derecho storms in Greene and Guthrie counties to apply for some financial relief.
Governor Kim Reynolds on December 16th issued a disaster proclamation for 43 counties, following the 61 tornadoes that went through the state on December 15th, including five in Greene County. Reynolds visited Greene County on December 16th to survey the damage firsthand and she described  what the proclamation means for individuals who may have suffered property damage.
"I signed the disaster declaration that makes individual assistance and state resources available. So we'll work with the communities in your local emergency managers, and really do everything we can to get people cleaned up and boxed in."
The Individual Disaster Assistance Grant Program provides grants of up to $5,000 for households with incomes up to 200 percent of the federal poverty level. Grants are available for home or car repairs, replacement of clothing or food, and temporary housing expenses. Original receipts are required for those seeking reimbursement for actual expenses related to storm recovery. The deadline to submit claims is by January 31st. 
According to the National Oceanic and Atmospheric Administration, about $700 million of estimated damage was done during the derecho, tornado storms on December 15th in Iowa.