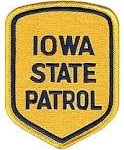 A Fontanelle man was killed Thursday night as a result of a motorcycle crash. 
According to the Iowa State Patrol, the incident occurred  at 11:27pm Thursday when 59-year-old Jay Zimmerline was driving west on Interstate 80 near the mile marker 85 and 87 on a Harley Davidson motorcycle. 
The crash report shows Zimmerline lost control and entered the median of the highway and struck the cable barrier. According to the report, Zimmerline suffered fatal injuries. 
The Adair County Sheriff's Office, Iowa State Patrol all assisted at the scene.