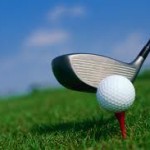 Jefferson Community Golf Course was the site of a Friday Class 2A girls' high school golf Regional tournament and Roland-Story was the runaway winner of the 18 hole event. The Norsemen shot 356 with MVAOCOU (Maple Valley) next at 400. Both teams advance to the Regional final next week at Nishna Hills Golf Course in Atlantic. Other teams were Southeast Valley (Gowrie) 434, OABCIG (Ida Grove) 438, South Central Calhoun (Lake City) 486, and East Sac County (Lake View) 504. Greene County and Kuemper each had just one golfer and did not qualify for a team score.
The lone Ram was senior Alex Miller. She shot 51-52 for 103 on the nine-hole course.
R-S had the lowest four scores led by Makenna Carlson's 83. Ellie Erickson was next at 87 with Mersadie Erickson and Gabriella Wakefield both shot 93. Annamarie Mallory of MVAOCOU was fifth at 95 and there was a tie for sixth at 96 by Riley Krayengagen of OABCIG and Cadence Koenigs of MVAOCOU. All seven advance to the Regional final.