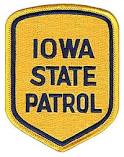 A single vehicle crash stopped traffic on Interstate 80 for roughly three hours on Monday. 
According to the Iowa State Patrol, Adair County Deputies responded to the incident at 10:37pm at mile marker 93 of Interstate 80. A 2002 Frieghtliner semi truck was headed eastbound, when the driver, Serjei Lowe from Sardis, Mississippi, entered the construction zone and Lowe tried to avoid hitting a traffic cone in the middle of the road and the semi went off the road and Lowe tried to get back on the pavement, and in the process overturned the vehicle onto its passenger side facing northbound blocking both eastbound lanes. 
The crash report shows Lowe was uninjured. The vehicle sustained $45,000 in total damages. The eastbound lane was closed from 10:37pm until roughly 1am. The Stuart Police Department, Stuart EMS along with Iowa State Patrol assisted at the scene.