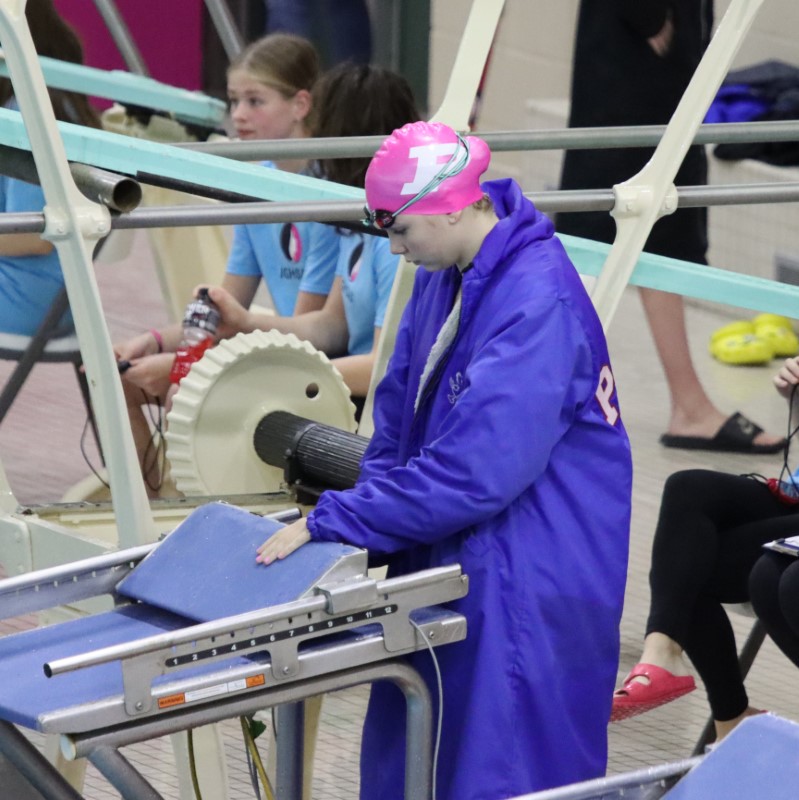 Quin Mahler-Moreno preparing for her state race
Perry sophomore Quin Mahler-Moreno placed 13th in the state of Iowa in the 200 freestyle and 12th in the 500 freestyle at the 2023 Iowa High School State Swimming championships in Marshalltown.  Complete results are posted below.
Nov 11, Day 1 of the State Swim Meet- Prelims for individual events
200 Freestyle- Quin Mahler-Moreno had a time of 1:57.44 put her in 13th place, quaflying her for Day 2
finals.
500 Free Quin Mahler-Moreno had a time of 5:15.73 put her in 11th place also qualfying her for Day 2 of
competition.
Nov 12, Day 2 of the State Swim Meet- Individual Event Finals and Relays
Perry was represented by Quin Mahler-Moreno in the 200 Freestyle, finishing in 13th place, with a time
of 1:57.29. Quin also finished 12th in the 500 Freestyle with a time of 5:14.68.
400 Free Relay- Quin Mahler-Moreno, Sophia McDevitt, Zoe Hibbert, Lilly Riley- 3:49.04, dropping -3.91
seconds, finishing 26th.