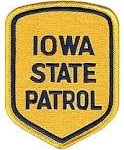 Holidays are a busy time for traveling, and Thanksgiving is one of busiest each year.
Iowa State Patrol District 4 Resource Officer Shelby McCreedy says that Wednesday is the most common and busiest day of the five day stretch for the Thanksgiving holiday, because that's when most people are traveling to get to where they're going to celebrate. She adds that Friday is the next busiest day, especially with people heading out for Black Friday shopping.
McCreedy tells Raccoon Valley Radio that Thanksgiving Day is actually the safest day for people to travel, because most everyone is already where they need to be. She mentions that over the four-day holiday stretch, there will be an increased presence of law enforcement on the road at the city, county and state levels, so that they can help make sure people are traveling safely.
McCreedy says that there are a few things that can help keep people safe including watching the speed limit, wearing seatbelts, not driving impaired, and not driving at excessive speeds.