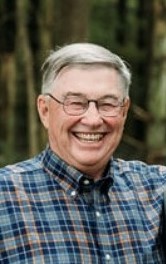 Mass of the Christian Burial for Quentin ("Q") Philip Minnehan, age 73, of Churdan will be held at 10:30 A.M. on Saturday, January 28, 2023, at the St. Patrick's Catholic Church, 449 E Ave., near Churdan with Father Tim Johnson as celebrant. Burial will be in the St. Patrick's Cemetery near Churdan.
Visitation will be held at the St. Patrick's Catholic Church near Churdan from 5:00 to 7:00 P.M. on Friday evening January 27th with a Christian Wake Service held at 7:00 P.M. Visitation will resume Saturday morning from 9:30 A.M. to 10:15 A.M. at the church.
Funeral arrangements are under the direction of the Dahn and Woodhouse Funeral Home in Carroll and online condolences may be left for the family at www.dahnandwoodhouse.com .
Quentin is survived by his wife Linda (Reese), children Jason of Churdan, Iowa (wife Brooke and children Ava and Hallee), and Michelle of Clive, Iowa (daughter Reese Golightly), Kristin Percival of Urbandale, Iowa (husband Matt Percival and children Penny and Presley); siblings Elaine Taute (Denny) of Scottsdale, Arizona, John Minnehan of Churdan, Iowa and sister-in-law Nancy Croy (George) of Appleton, Wisconsin and numerous aunts, uncles, nieces, nephews and many other relatives and friends. Quentin is proceeded in death by his parents Philip and Rosemary Minnehan, his in-laws William and Betty Reese, his son Matthew Philip Minnehan and many other beloved family members and friends.