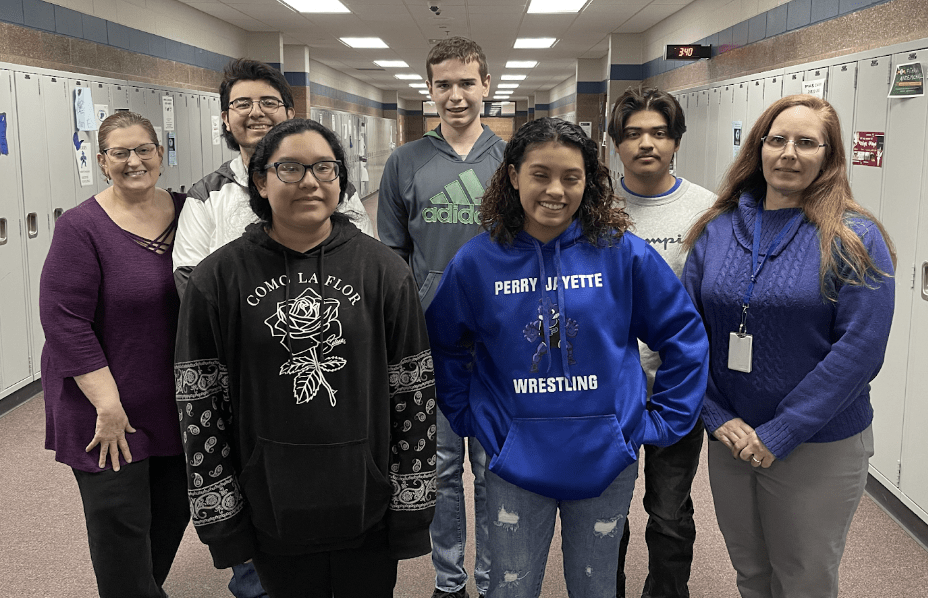 Perry High School's Academic Decathlon team for 22-23 includes the following members listed from left to right: Coach Teresa Kresse, Jefry Gonzalez, Ashley Robles, Seth Borgeson, Amy Aguirre-Eugenio, Jose Chavez, and Asst. Coach Lisa Schumacher.
The Perry High School Academic Decathlon Team qualified for state and competed against the brightest minds in the state in Urbandale last weekend. 
The Bluejays took five decathletes to the Iowa Academic State Decathlon and placed 11th in the small school division out of 12 total teams in the tournament. Senior Jefry Gonzalez took home two gold medals in the categories of math varsity,  interview varsity and a bronze for small essay varsity. Gonzalez says that he almost received a perfect score on his interview with a score of 990 out of 1,000 points. He tells Raccoon Valley Radio what his reaction was like once he won the gold medal.
"So I jumped out of my seat and I ran. And I got to meet Jolene Teskey. She's the board president of Academic Decathlon. I shook her hand and we had talked prior. I was like, I had a really good interview, I think because she usually tends to ask people how they think they did on certain events. And she said, 'Well, I hope there's a medal in your future.' So I got to say back to her. I was like, 'There was a medal in my future."
Perry Academic Decathlon Team also had others that received a medal including Jose Chavez getting a sliver in the small division math scholastic and Ashley Robles who won a bronze medal in small science scholastic. Coach Teresa Kresse was excited about her team's participation.