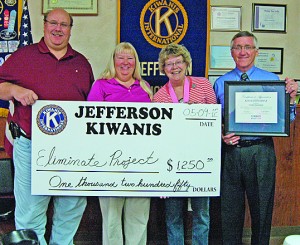 A Jefferson Kiwanis Club member was recently honored with the prestigious Mother's Day Walter Zeller Fellow Award.
According to member Lisa Jaskey, Past President Linda Spearman was speechless when she was given the award.  The honor is in recognition of a $1,250 contribution to the Eliminate Project: Kiwanis eliminating maternal and neonatal tetanus.
The club's donation on Spearman's behalf will help save or protect more than 690 lives from the disease.  To date, the Jefferson club has pledged $5,000 to the Eliminate Project.
Spearman received a special medallion and certificate along with the check to the Eliminate Project.