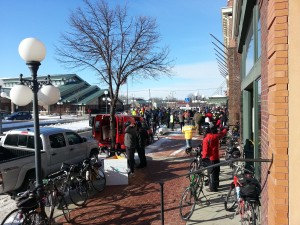 Temperatures were rather mild for an early February day but the wind made it feel like zero degrees Saturday.  Still that didn't stop hundreds of dedicated bicyclists from making the trip from Perry to Rippey and back.
There was plenty for both riders and non-riders to do in Perry over the weekend.  The Lions Club served breakfast to kick off the day, the fire department grilled food for return riders, Perry restaurants and bars served up food and drinks and offered live post ride entertainment.  BRR enthusiasts were also able to check out the Carnegie Library's new ride themed exhibit.
Perry Chamber of Commerce executive director Bob Wilson says it was another successful event, which is making the community even more excited for RAGBRAI this summer.